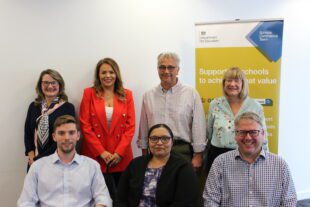 We are all super excited within the Engagement and Outreach Team this month as we prepare for the upcoming  Schools and Academies Show on 17 and 18 November. The Schools and Academies Show is the UK's largest education policy event that attracts attendees from Schools, Academies, MATs, Local Authorities, Central Government, and the wider education sector.
This will be our first face to face show since 2019, as due to COVID-19, it successfully switched to a virtual event throughout 20/21. Our team will be in the Government Village and holding a number sessions over the two days.
You can register for free to attend the event and sign up to our sessions, which include:
Day One
12:05pm - 12:45pm
Business and Finance Theatre
The Schools Buying Programme
Our speakers are:
Susan Dawson, Commercial Director - DfE
David Allen, Stakeholder and Engagement Lead - DfE
Rob Owens, Chief Operating Officer - Stephenson Multi Academy Trust.
In this session:
Find out more about the services and guidance available to make sure you get value for money when buying goods and services for your school
Learn about  Get Help Buying for Schools, a new service which is being developed by the DfE to support schools with their buying and how it can help you.
Hear from fellow school business professionals as they talk about their experience of using these services and the difference it has made to their school.
2:10pm – 2:50pm
Business and Finance Theatre
Get Help Buying for Schools
Our speakers are:
Helen Lumb, Stakeholder and Engagement Manager – DfE
Amanda Quinn, Procurement Project Delivery Lead - YPO
Vicky Horsfield, Category Manager – YPO
In this session: 
How to navigate your procurement journey
How DfE approved frameworks can help your school to meet the challenge of procuring goods and services
What are the latest updates on support available to those responsible for buying
Take the opportunity to get questions answered directly from experts and practitioners. 
Day Two
12:50pm - 1:20pm
Business and Finance Theatre
Be SMART Managing your Energy Consumption
 Speakers:
Arati Patel-Mistry, Stakeholder and Engagement Manager – DfE
Stephen Daniels, Deputy Director for Benefits Realisation, Smart Metering Implementation Programme - Department for Business Energy and Industrial Strategy
Linda Wilson, Head of Corporate Property Services - Solihull Metropolitan Borough Council
In this session:
Smart metering is a key tool you can use to manage your school's energy consumption. Join the DfE, BEIS and industry speakers who will explain how smart meters can support your school's journey to Net Zero.
Learn how the recently published Public Sector Smart Metering Guide can be used to identify the benefits of smart meters in schools, including better energy management that could result in cost savings and reductions in greenhouse gas emissions.
Understand how schools have applied practice and made reductions in their consumption of energy by changing behaviours.
Over the course of both days at the Show, the Engagement and Outreach Team will also be holding two mini workshops in the Government Village; these sessions will be useful if you want to find out how to increase your purchasing power.
You don't need to book, just come along to the Education Village on:
17 November: 1:30-2:00pm
18 November: 10:30-11:00am
These workshops are an opportunity to discuss the DfE approved Frameworks with the Engagement and Outreach Team directly. We will be on hand to guide you through exactly what a Framework is, how to use the 'Find a Framework' tool as well as how to get the best out of using the other services we have. It's the perfect time to talk with us and ask any questions you may have about your procurement challenges.
We will be on the Government stand all day to answer any procurement questions or challenges you may have, just come along and see us. If you have something you would like to discuss one to one you can book a conversation with a member of the team.
You can also pre-book a one to one session with a representative Crown Commercial Services (CCS) to discuss hiring temporary and fixed term teaching and non-teaching staff for your school. CCS are the biggest public procurement organisation in the UK and will be using their commercial expertise to help you with your procurement needs.
On behalf of the Engagement and Outreach Team, I want to express how much we are looking forward to seeing you in person once again and discussing how we can support your procurement journey.
We hope to see you in Birmingham.
Please follow us via our LinkedIn page, we will be posting more details of our plans for the show in the coming days.
If you do have any questions beforehand, please contact the team on: schools.commerical@education.gov.uk