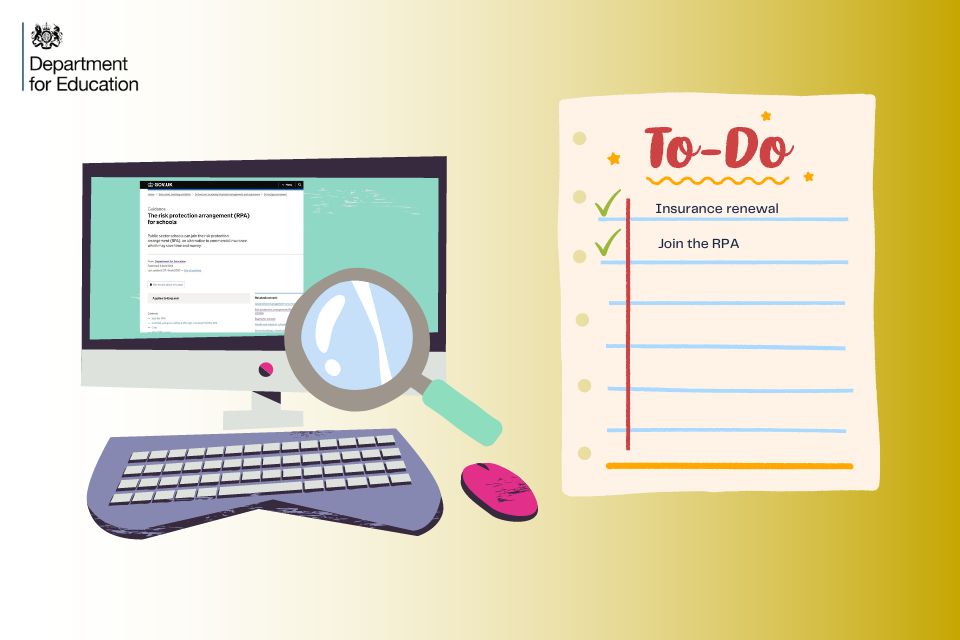 Is reviewing your school or trust's insurance arrangements one of those things on your 'to do' list for the autumn term? Louise Green works in the Department for Education's Schools Commercial Team. In this blog post, Louise talks about the benefits of the DfE's Risk Protection Arrangement (RPA), an alternative to commercial insurance for state funded schools.
Before you click the close button because your school is already an RPA member, I encourage you to read on and make sure you are making the most of your membership.
What is the Risk Protection Arrangement (RPA)?
The DfE's risk protection arrangement (RPA) could save you time and money. The RPA is the DfE's alternative to commercial insurance for schools, and this means that the UK government covers losses instead of commercial insurance.
It's not complicated to join, it takes less than five minutes and there are no forms to fill in. It operates on a no material fact disclosure basis, so we don't need estate, buildings or contents valuations and we don't review your school's risk rating. Another bonus is that there is no annual renewal process. Your membership will simply roll over to the next year, so you don't even have to think about that.
It provides financial protection to schools in England and covers a wide range of risks, including (but not limited to):
cyber security
UK and overseas travel
property damage
legal liability
personal injury
A detailed list of everything covered can be found on RPA GOV.UK.
RPA membership brings many benefits that can help protect your school and staff, including:
financial protection - the RPA will cover the cost of any losses that your school suffers, up to the limits of your membership. This can help to protect your school's finances in the event of something unexpected
peace of mind - knowing that your school is financially protected so you can focus on teaching and learning
access to support - the RPA offers a range of support services to its members, including risk management advice and training. This can help you to proactively reduce the risk of accidents and claims
Since its launch the RPA has resulted in schools achieving significant savings. Currently, the cost for 2024/25 is £25 per pupil, per place, and this is reviewed annually. It's based on academic years; this means for academies the membership year runs from 1 September to 31 August and for Local Authority Maintained schools, 1 April to 31 March.
I mentioned about the RPA saving you time. This is not just each year when your membership rolls over automatically, but should the unexpected happen and you need to make claim, access to support is quick and simple through a single telephone call. Claims can also made online through the RPA claims management company website.
But don't just take our word for it. Here's what Sally Connell, School Business Manager at Chew Stoke Church School, had to say about being a member of the RPA:
"I can't understand why schools wouldn't be in it. We have found it to be cost effective compared to private insurance. It's DfE backed so you know it's going to be legitimate, and claims paid. They understand the context of schools in a way that any private insurance would not. The work involved every year obtaining quotes and demonstrating why you have chosen a particular insurance supplier; the RPA saves all that time and just the fact that it is DfE recommended is all the assurance that Governors need."
Membership also gives you access to guidance and support, and this includes proactive flood, crime, fire, and health and safety resilience schemes. Depending on the circumstances, financial support is available to either improve risk management or invest in solutions that are likely to reduce future claims. Where solutions are proactively instigated, they reduce the need to close schools and classrooms and all the disruption that comes along with that if an incident were to occur. There's more information about this in our Keeping everyone safe and secure in school blog post.
RPA resilience funded over £100,000 of security measures at the Coastal Learning Partnership. Sue Grey from the partnership's central team said:
"All 16 schools have been RPA members since becoming academy trusts; the fund is designed for schools and provides cover when it is likely that normal insurers wouldn't. We don't understand why academies would go with another provider. The RPA in total has funded £107,000 of work and this could increase to £130k. It has been well received by all the schools and the new fencing also makes the school look nicer."
Cybercrime is a concern and a cyber security incident can affect your schools ability to function. It can be very costly and time consuming to put right which is why, in response to ever growing cybercrime concerns, cyber cover is included in the RPA cover.
As RPA members, Bishop Stopford School avoided costs of £45,000 following a cyber incident. Clare Curchin, School Business Manager at Bishop Stopford School said:
"During what was a very stressful time - where potentially we could have lost everything, CyberClan kept us grounded and their support helped us to get through it. We felt we were in safe hands and had their full support. The staff and students didn't see any change and other than changing their passwords, they were not impacted."
There's more information about cyber cover in our RPA members – if an incident were to happen, is your school cyber secure and are you covered? blog post.
How to join
If you are a school leader, I would encourage you to consider joining the RPA. It is a valuable safety net that can help to protect your school's finances and reputation. Here's a quick summary of the benefits:
simple, standardised membership terms and conditions. This makes it easy to understand what is covered by your membership and how to make a claim
dedicated 24/7 helpline
network of experienced professionals who can provide advice and support
If you are currently an RPA member, I encourage you to take advantage of all the benefits that your membership has to offer. By doing so, you can help to protect your school and its staff from the unexpected.
If you would like more information about the RPA, please visit the GOV.UK RPA website or contact schools.commercial@education.gov.uk
If you've found this article useful and want to learn more about how we're supporting schools, click 'sign up and manage updates' to subscribe to our blog and receive notifications when we next post.